am/pm - Maria Qamar, creator of Hatecopy
Linda Nguyen | Mar. 22, 2019
Featured in this week's edition of am/pm is the pop artist behind Hatecopy, Maria Qamar. Author and artist of Trust No Aunty, Qamar popularizes the life and times of first generation Indians living the West through a satirical lens. Her paintings have garnered a huge celebrity interest, and can even spotted decorating the set of Mindy Kaling's show The Mindy Project.
Learn about her morning and nightly rituals, plus her take on celebrating the power of women, by reading below!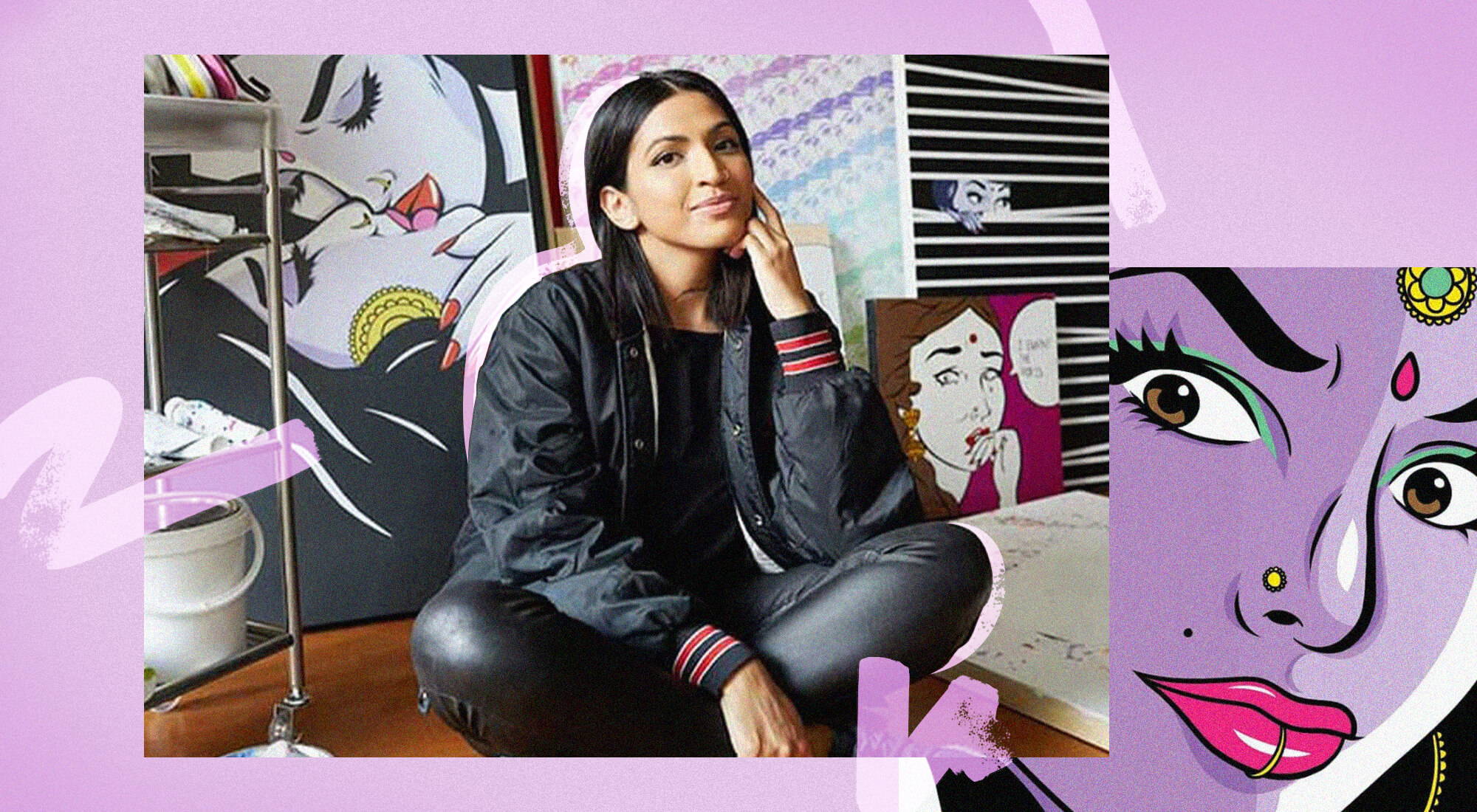 Maria Qamar (Graphic design: Cat Walrond)
TELL US ABOUT YOUR MORNING ROUTINE. WHAT DO YOU DO TO ENSURE YOU'RE READY FOR THE DAY?
I have never ever been a morning person, which is funny because my mother always brings up the fact that I was born at exactly 8 a.m. So, to ensure I'm up before noon, I put on my headphones as soon as my alarm goes off and blast my favourite music on max volume. That way, even if I'm forced to get up, it's to a tune I love.
THIS YEAR'S INTERNATIONAL WOMEN'S DAY CAMPAIGN THEME IS #BALANCEFORBETTER, DRIVING GENDER BALANCE ACROSS THE WORLD. WHAT DOES THIS MEAN FOR YOU?
My life was spent arguing "Why not me?" with people who refused me things just because of my presumed gender. Gender balance and gender equality must first begin with recognizing gender as a spectrum rather than a binary. Once we've established that, we can begin moving forward.
IF YOU WERE STANDING ON A SOAPBOX IN FRONT OF A CROWD OF WOMEN, WHAT WOULD YOU WANT THEM TO KNOW?
I would rather listen to what the women have to say.
TELL US ABOUT A WOMAN WHO INSPIRES YOU AND WHY.
Any woman with a solid work ethic is my inspiration. I admire those that can simply get up and work. It's not something that comes easy to me. I must dream about it first.
HOW DO YOU GET READY FOR BEDTIME? WHAT ARE SOME THINGS YOU HAVE TO DO BEFORE GOING TO BED?
It's always somewhere between reading my novel next to a hot cup of tea, or playing Candy Crush for HOURS until I pass out.