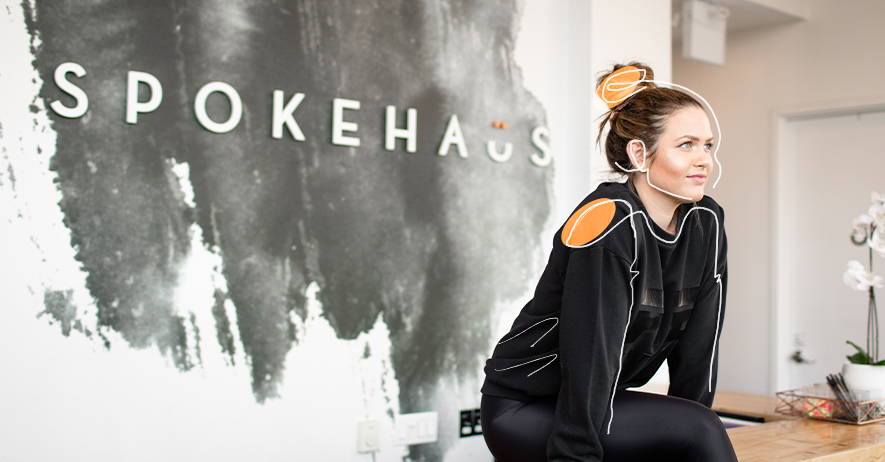 am/pm - Christine Londoño, founder of Spokehaüs
Linda Nguyen | Mar. 22, 2019
Featured in this week's edition of am/pm is founder of Spokehaüs, Christine Londoño, a motivating fitness guru who has made it her mission to get your body moving and energy boosting through her invigorating spin classes.
Learn about her morning and nightly rituals, plus her take on celebrating the power of women, by reading below!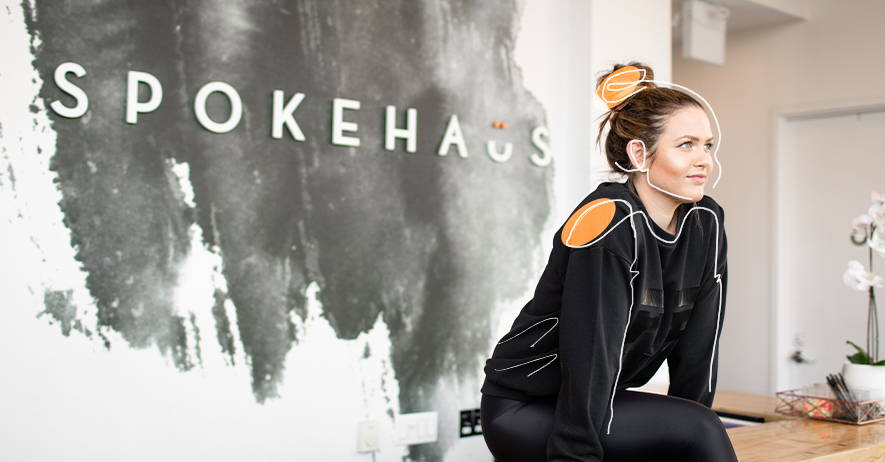 Christine Londono (Photo: Chris Pangan; Graphic design: Cat Walrond)
TELL US ABOUT YOUR MORNING ROUTINE. WHAT DO YOU DO TO ENSURE YOU'RE READY FOR THE DAY?
Sleep is the most important thing for me from a sleep, skin, stress, and well-being perspective. I can't just jump out of bed in a panic. If this happens, the day is going to be a massive struggle for me. I sleep with the blinds open, so 95% of the time I wake up naturally. If that fails, I have my two dogs who will make sure I'm up with the sunrise. Before I even get out of bed, I listen to a podcast—a game changer in feeling motivated for the day—and answer emails until my mind is truly awake. Next, I take my dogs for a walk where I'll usually to grab a coffee. Or, I'll make one at home. With the natural light, movement, and hydration, I'm pretty much good to go for the day.
THIS YEAR'S INTERNATIONAL WOMEN'S DAY CAMPAIGN THEME IS #BALANCEFORBETTER, DRIVING GENDER BALANCE ACROSS THE WORLD. WHAT DOES THIS MEAN FOR YOU?
I feel so lucky to live in a time and be surrounded by people who see the true value of a woman's perspective. I've been very lucky in always feeling my opinion was valued in my workplaces. Coming from the cosmetics industry, gender balance was alive and well, and I've had the privilege to work under three female CEOs in the past. My peers in other industries, however, have had very different experiences where the glass ceiling was very present in their day-to-day lives. There's so much awareness now thanks to amazing campaigns like this one, so employers have no choice but to take this into serious consideration. Hopefully being a woman will be thought of as an extreme asset now versus the anchor it has been in the past. If I'm lucky to have a daughter one day, inequality will be a thing of the past no matter the industry.
IF YOU WERE STANDING ON A SOAPBOX IN FRONT OF A CROWD OF WOMEN, WHAT WOULD YOU WANT THEM TO KNOW?  
Comparison is the thief of joy, and I would plead with women to try as hard as they possibly can to stop personally comparing themselves to what they see on social media. "Women empowering women" doesn't happen enough. Social media makes it tough to avoid wondering: "Am I enough?" or "Is my business enough?" However, knowing your "why" and really believing in it will ensure you touch people's lives in an authentic way, and that's all that matters. I wish more women knew that lifting others up, even if they may be doing better than you, will bring so much more to your life than the constant quiet comparison. No one can be you and that's your power. Believing this is the key to your professional and personal success, and, most importantly, your happiness.
TELL US ABOUT A WOMAN WHO INSPIRES YOU AND WHY.
So many women inspire me that it's hard to pick just one. One that sticks out is the first woman first who hired me in first-year university. She was a complete badass trailblazer in the cosmetics industry and what struck me the most about her and her leadership style was her kindness and inclusiveness—she was just nice. Nice seems like such a simple word, but how many people do you meet who are genuinely kind unconditionally? There wasn't a single person in the industry who could say a bad thing about her, gossip didn't exist around her name, and people (including me!) wanted to be in her presence to learn from her. Sometimes I think I am too "nice" or maybe even a little bit "soft" when it comes to business, but looking up to her leadership style for all those years doesn't allow me to play hardball. It's just not in my nature, and it hasn't steered me wrong.
HOW DO YOU GET READY FOR BED? WHAT ARE SOME THINGS YOU DO TO ENSURE A RESTFUL NIGHT?
I've become obsessed with skincare since hitting my 30s, so each night begins at the sink with a 3-4 step process, which I won't bore you with. I always have my diffuser going and some sort of "calming" spray on our sheets… my senses are overactive so this part is important to help me wind down! Although I felt zero interest in trying meditation and didn't believe it would work on me, I was proven wrong. I use Calm, and every night I listen to a deep sleep meditation which has me sleeping in five minutes flat.