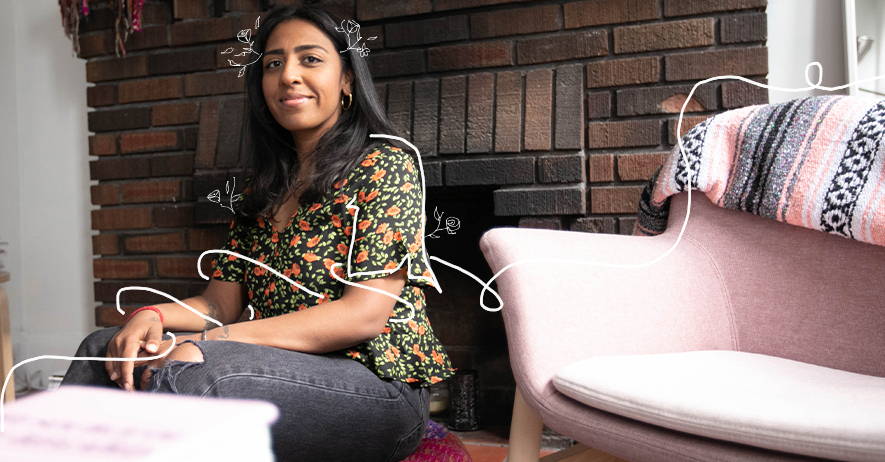 am/pm - Anupa Mistry, music and pop culture journalist
Linda Nguyen | May 10, 2019
Featured in this week's am/pm is music and pop culture journalist Anupa Mistry. Anupa has written for publications like The FADER, The Guardian, Pitchfork, and much more. Subscribe to her newsletter, Burn Out, to keep up with her musings about arts, culture, books, side-projects, and literally everything else in between that peaks her interest. "It's a place to keep going. And the hope is that it might keep you going too." You can also listen to special episodes too.
Learn about Anupa's morning and nightly routine below!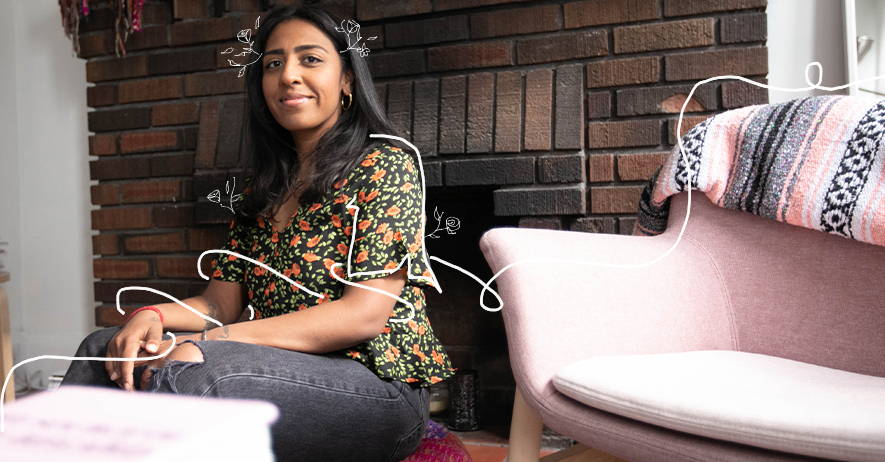 Anupa Mistry (Photo: Chris Pangan; graphic design: Cat Walrond)
---
GIVE US THE LOW DOWN ON YOUR MORNING ROUTINE. WHAT DO YOU DO TO ENSURE YOU'RE READY TO TACKLE THE DAY AHEAD?
I like to start my day with quiet because it's really easy for our headspaces to be hijacked by social media, thoughts of the future, etc. I don't look at my phone for about an hour or so after I wake up at 7 a.m. I feed my cat, brush my teeth, make coffee, and write in my journal for about 20 minutes. Having my brain to myself first thing in the morning makes the rest of my day feel manageable.
YOU'VE MET A LOT OF MAJOR ARTISTS IN THE MUSIC WORLD. IS THERE A STAND-OUT ARTIST THAT YOU HAD A PARTICULARLY MEMORABLE INTERVIEW OR EXPERIENCE WITH?
Most of the artists I meet that inspire me the most aren't super famous. In Berlin I interviewed Damo Suzuki; he's best known as the former lead singer of the legendary krautrock band Can, but now he just travels around the world performing improvisational concerts with local bands. I learned so much from the way he practices non-attachment to the peaks and valleys of his career!
THIS MIGHT BE TOUGH, BUT WHAT'S ONE ALBUM THAT YOU COULD LISTEN TO HEAD TO TOE AND NEVER GET SICK OF?
Really hard but Feist's "Metals" might be it.
HOW IMPORTANT IS SLEEP TO YOU? DO YOU THINK YOU GET ENOUGH TO STAY FOCUS AND CONTINUOUSLY BRING IDEAS TO THE TABLE?
Sleep is very important to me and I'm pretty strict about getting 8 hours every night. I suffer from periods of insomnia so when I'm in a good sleep pattern I can really see how much more alert, thoughtful, and energetic I am.
HOW DO YOU GET READY FOR BEDTIME? WHAT ARE SOME THINGS YOU HAVE TO DO BEFORE GOING TO BED?
I always have a cup of Sleepytime or chamomile tea! I try to get off my computer about an hour before bed to read, listen to a podcast, or just take some time to clean up around the house in order to slow my brain down. I'm religious about taking care of my skin so sometimes I'll spend some time with a face mask. Just like the morning, I really like to end the day feeling super present and slowed down!